The latest investment brings the company's valuation at US$20 million.Belt Road Capital Management (BRCM), a Greater Mekong-focused private equity fund, has invested US$3 million in a Series B funding round of Tima, a Vietnamese financial marketplace and peer-to-peer (P2P) lending platform, local media reported.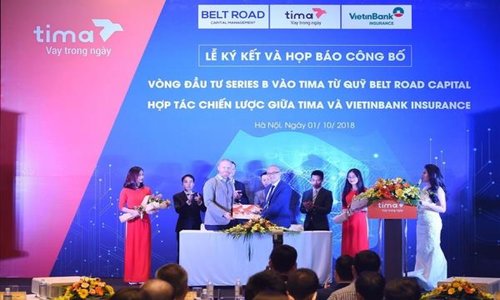 The latest investment brings the company's valuation at US$20 million. This is the first investment by the Cambodia-headquartered fund manager in Vietnam.
Founded in 2015, Tima raised a series A round in 2016 from Dunearn Singapore Fund and G Capital.
Proceeds from the Series B round will be used for their growth in 63 cities in Vietnam, technology enhancement and talent acquisition, Tima said in a statement.
As part of the investment, Witt Gatchell, senior investment manager of BRCM, will join Tima's board of directors.
"While the sector is new to Vietnam, it is well developed in other markets. With Tima's strong management team and presence in the market we believe that the company has tremendous opportunity for growth," Gatchell said in an official press statement.
Though enjoying exponential growth over the last few years with US$47.84 billion in outstanding consumer loans as of end-2017 according to data from the Banking Strategy Institute under the State Bank of Vietnam and StoxPlus, the consumer finance market in Vietnam is still behind other regional peers and has room for development.
"We received higher demand from top financial investors and strategic investors in this round. We may have a pre-series C funding round right after this Series B, our Board is considering this proposal from several big funds and open to investors who can add value to the company for our growth and expansion," Tima co-founder and Board member Cong Tran said.
The company says it has 23,775 lenders and over two million borrowers on its platform. In order to soothe the concern over P2P lending risks, Tima has partnered with Vietnam's second largest bank's insurance arm VietinBank Insurance Corporation to secure the transactions.
In addition to its investment in Tima, BRCM has also invested in Asia-based mobility virtual network provider Unnitel, Australia-based property portal Digital Classifieds Group, Myanmar-based travel and taxi company Oway Group, and Cambodian digital publishing and entertainment group Sabay Digital.
Source: HaNoi Times